Get The Party Started With A Bacon Guacamole Dip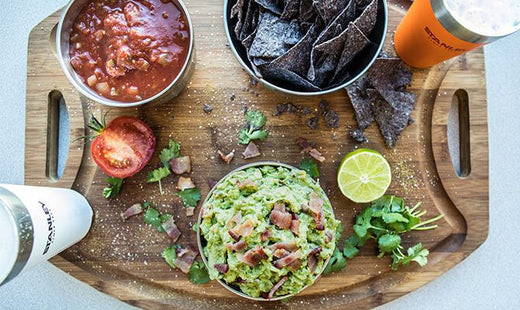 Bacon and avocado. One is an absolute staple of campfire breakfasts and greasy spoons worldwide. It is simply delicious, no matter how you make it, and we have paired two star-crossed lovers for an out-of-this-world, party-ready Bacon Guacamole. The fatty, salty bacon complements the creamy, cool avocado perfectly in this simple, easy-to-make recipe. This Bacon Guac gets the job whether you're looking for a crowd-pleasing B.Y.O. addition to a Game Day shindig or a quick snack you can toss into your Stanley food jar before you hit the trail on a hike done. Who says you have to work hard to be a party pleaser?
Stanley's Signature Bacon Guacamole
Ingredients:
4 strips of fried bacon chopped into bits

2 large avocados, all mashed up.

Juice of 1 lime

1 jalapeno, minced

1 medium tomato, diced

¼ cup red onion finely minced

1 tablespoon cilantro chopped

½ teaspoon ground cumin

Salt and pepper to taste
The How-To:
After chopping, dicing, and a shot or two of tequila (administered orally to the chef), put all ingredients in a bowl and mix gently. Garnish with a bit of extra cilantro and a squeeze of lime. Serve with chips, toast, pita, dippable veggies, or spooned straight from the bowl. Sit back and take your friends' compliments gracefully.
---
CAMPING SEASON IS BACK: TIME TO CELEBRATE WITH STANLEY
STANLEY ESSENTIALS FOR BACKYARD GATHERINGS

RECIPE: JUG'O RITAS TO PLEASE A CROWD
---